Tomasin got me up about 7:15 a.m. for a death march up into a nice neighborhood in the hillside above Cabo San Lucas. The development is called
Pedregal
. Self described as "the premiere private residential community on the Baja California Peninsula in Mexico." The neighborhood is full of large, beautiful homes overlooking the harbor, the Sea of Cortez and the Pacific Ocean.
Getting back to the hotel, we joined everyone for breakfast. After the late night, I decided to go back to the room and take a nap, rather than eat.
After breakfast, with Hunter leading, we started towards the beach looking for a place called
The Office
that they had been before. Hunter dragged us through the marina, along the channel that leads from the marina to open water and eventually to the south end of the main beach.
We started our way up the beach stopping at a couple of spots. Hunter decided to get a temporary henna tattoo of a horse head on his chest. This started a trend; everyone ended up getting different ones over the course of the next couple hours.
Eventually, we meandered up the beach to The Office. Geselbracht and Chabrier were already there and had staked out a table. We ended up sitting there for several hours, having lunch, and occasionally wandering down into the surf.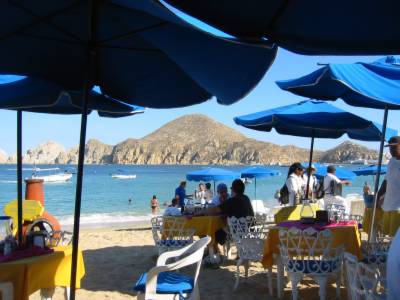 Tomasin and I took off in the late afternoon and walked about 12 blocks back to the hotel. We watched a large part of the Lakers versus Timberwolves game in the gazebo next to the pool. After the game, We headed back into town and had a late dinner at a place called Lobster Tacos. After dinner, we wandered around looking for an ATM and trying to hook up with the rest of the group by pub crawling through
El Squid Roe
and a number of other night spots.