At 6:00 a.m., someone was pounding on the door to get us up to go fishing! Hunter, Chabrier, Bachman and I walked down to the Marina. Chabrier had arranged for a boat to take us out bluewater fishing. The boat was chartered from
Picante Bluewater Sportfishing.
We headed out for about an hour to 20 miles out into the Sea of Cortez.
Within the first hour of fishing we hooked a marlin. After it was hooked, the marlin danced across the water and had a couple of spectacular jumps. Then it dove deep. I spent more than 30 minutes fighting the marlin before it was pulled into the boat. It was a 7 foot, 120 pound
striped marlin
. It was a very cool experience. After a couple of pictures, we released it back into the ocean.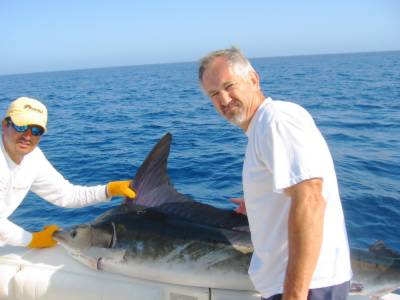 Although we saw three more marlin's sunning themselves, we were not successful at interesting them in the bait or the lures. Additionally, we saw one other marlin that tail walked for almost a hundred yards; this was extremely cool. Chabrier said that the only reason that anyone could figure out about why they do this is because they can... It was a little disappointing that we did not catch anymore fish, but Chabrier pointed out that the last two times he was out they got skunked.
By the time, we walked back to the hotel, it was after 4:00 p.m. I had called Tomasin from the boat on the way in and they were already at
The Office
. After dropping off our stuff at the hotel, the four of us caught a cab to meet them.
One of the things that I will remember most about this trip is Geselbracht trying to buy up the entire supply of silver bracelets from the vendors on the beach. He ended up with 12 or 15 solid bracelets and almost two dozen linked bracelets. By Saturday night, I was convinced that his picture was posted somewhere. Everywhere we went on the beach, Geselbracht was shadowed by a number of vendors offering him more "almost free" bracelets.
Back to the hotel, we went to a late dinner at
Margaritavilla.
This restaurant is right on the marina. We sat upstairs with a great view of the surrounding area.
I had problems finding an ATM machine that would take my Wells Fargo card. Although Tomasin's BofA card worked great, I was unsuccessful with my card in half a dozen attempts at different machines. I spent part of this night wandering around and trying different ATM machines.
After dinner, we bar hopped. I was quickly running out of gas. Finally, I gave up and headed back to hotel by myself. Shortly after I left, two pickups loaded with policemen pulled up and went into the bar; the pickups raced pass me as I walked away. The policeman searched everyone and then left. We spent some time the next day trying to figure out what they were looking for and whether or not this would be legal in the United States.